The Meat Tenderizer KT-8 will do for you more than just smooth cuts of
meat. It will dramatically increase your profits by turning less tender
inexpensive cuts into value-added products.
Meat Tenderizer 3/4 HP. 110V/60HZ. STAINLESS STEEL BODY.
STEEL GEAR TRANSMISSION.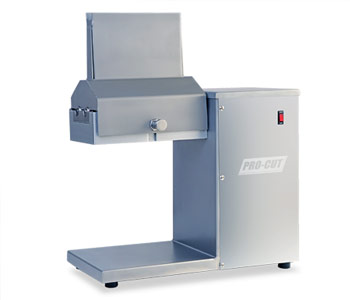 Click here for spec sheet.
he KT-8 Meat Tenderizer from ProCut features a powerful 3/4 HP motor and stainless steel construction.  This easy to clean unit tenderizes cuts up to 1″ (2.5cm) thickness and 8″ (21cm) width.  Ideal for tenderizing boneless meat without tearing it, making them easier to cook while keeping the natural juices and flavor.
Tenderizing unit easily removable for cleaning
Optional "FAJITAS" unit available
Thermomagnetic protector prevents overloads
Cabinet, frame and lid feature stainless steel construction
43 hardened stainless steel knives
Dependable steel gear transmission
Conforms to UL 763 + NSF-8 Safety and Sanitation standards
Conforms to CAN/CSA Std C22.2

SPECIFICATIONS:

Motor
Voltage
Gear Transmission
Max. Product Width
Max. Product Thickness
Net/Shipping Weight

Model KT-8

3/4 HP / .55 kw
110v/60hz
Yes
21 cm / 8.25″
2.5 cm / 1″
73 lbs / 86 lbs