This oven is made of steel  and is insulated to prevent any heat loss. The front exterior is brick faced. This oven is equipped with 2 gas burners with adjustable flame controls. The door opening is 34" wide, this oven  must be used with the door opened which allows your cutomers too see how fresh your pizza or pies are being make to order.
THIS OVEN IS THE NEWEST BRICK STYLE PIZZA/ PITA OVEN TO HIT THE MARKET. WITH THIS OVEN YOU CAN MAKE PITA BREAD, CHEESE PIES, MEAT PIES, THYME PIES IN 90 SECONDS AT 375 TO 400 DEGREES FAHRENHEIT. THE OVEN IS MADE OF ALL STAINLESS STEEL AND IS INSULATED TO PREVENT ANY HEAT LOSS. 
CALL FOR PRICE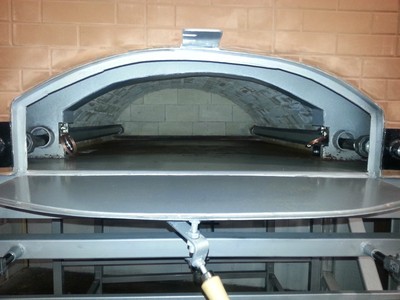 OPTIONAL ACCESSORIES
*CUSTOM FACING
*WOODEN OR STEEL SPATULA
*WOODEN BOARDS
*STONES
*BOARD RACKS
Model   PO48
Fuel Type GAS            
Width 49"
Depth 59"
Length 71"
BTU 91,000
Weight 3000 LB
Hearth Capacity Chart
This oven is specially manufactured to produce all kind of pastries, all kinds of pies, pizza and small bread. The external body of the oven is made of solid metal, while the interior part consists of refractory bricks and tiles. It is isolated by a layer of rock wool then by plates of cement, thus preventing any temperature loss and minimizing the quantity of fuel consumption. It is operated by gas or diesel and available in various sizes according to the demand.  
8" Pies 16
10" Pies 10
12" Pies 6
16" Pies 4